Landscape Drainage With Gravel And Rocks
Gravel Is One Of The Best Landscaping Drainage Materials
Static Water Is Bad For Plants, We Have Landscape Drainage Solutions
Without proper landscape drainage, still water, standing water, and surface water all lead to the same thing – root rot. Everything you've worked towards in your garden, ruined by the excess water lying in your yard. Without a drain to take that water and send it elsewhere, your plants will wither and die from overwatering. These drainage problems lead to big issues in agriculture. You can try a soil amendment by adding sand to your soil in certain situations, but that isn't universally applicable. The best option is using gravels, stones, or pebbles to make a yard drainage system.
We Have Yard Drainage Solutions For Any Landscape Design
Drainage Rock Delivery In Atlanta
Stormwater is a common cause of excess surface water, which can erode your soil, kill plants, or increase mosquito populations. Find a way to get that water flowing today. Use gravels and trenches to channel that water away with minimal runoff. Find a way to get your grass dry and breathing. Install a french drain, a type of trench around your house filled with gravel, and watch the installed system drain the still water in from your landscape.
Top 6 Ways To Use Rocks For Yard Drainage: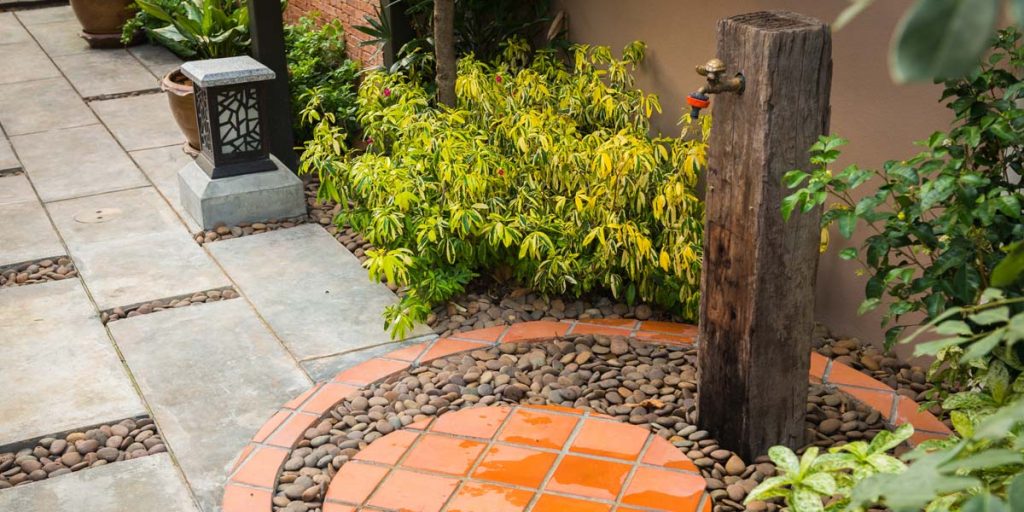 Get Your French Drain Materials Now
French drains are easy. Just dig a hole around your house, and fill it in with gravel and rocks. You don't want a fine grit of gravel, since compacted soils and sands lead to the very rain you're trying to get rid of to stick around. Get bigger grains, 1-inch diameter, to carry through the ground the water to a creek or river where it can be happy. Whether a commercial or business location or a homeowner or contractor, we have the supplies you need to set up a french drain today.
Find A Drainage Solution For Your Project Today
Are you working on making your home a dream home? Have still water and excess water on the surface of your yard, drowning your plants? Catch us during hours on the phone or in store and we'll sort you out with a selection of the perfect gravels and rocks to drain your yard. Whether it's an issue of compact dirt or too much rain, we'll sort you out in no time flat. It could be that your issue is not with the ground should you hold onto water, festering in your gardens and flowerbeds. But perhaps your problem is with the lack of a drainage system. Call us and we'll get everything you need.
Buy Gravels To Drain Your Yard Delivered To You
Find your house is always surrounded by water? Don't want to look like you're living in the amazon rain forest? Then have we got the products for you! Sand can be used in a horticultural system to amend your soil, but so can gravel. If you just have too much water then you can call us and we'll provide you with the gravel and sand you need to get your projects up and running again. No one wants to have to wade through water to get to the store. We can help. Contact us today to get your drainage rock solution.
It is common for landscapes to flood due to improper drainage systems. There are a few solutions that can easily resolve these problems. This includes the installation of a dry well, or a rain garden. A dry well is used to collect and redistribute the water to nearby soil rather than redirecting the water further from the house. A rain garden is used to collect heavy flows of water and will typically drain within 24 hours. Other options include the extension of your downspout or digging a creek bed. The downspout can be extended to redistribute water further from your house while a creek bed is used to redirect that water further from the spout to a ditch away from the house. An easier solution could be to reduce your watering schedule to prevent the water from collecting too quickly in one area of your landscape.
Drainage can be installed in a variety of landscape types. Some landscapers may prefer not to install a piping system for their project. An alternative solution is to build an artificial drainage system made of natural stones and pathways to lead the water away from your landscape in a way that looks great.
The cost of installing a drainage system in your landscape will vary depending on the size of the landscape and the scope of the project. However, it has been estimated that the average cost to install a drainage system in a lawn is between $8.00 to $15.00 per linear foot. This cost can fluctuate depending on the type of drainage system you choose to use and the materials necessary to build it on site.