Landscaping Materials & Mulch Delivery In Atlanta
Allow Us To Deliver The Materials You Need In The Most Efficient Manner
Our courteous and experienced staff of drivers and dispatchers are standing by to deliver your order.
Requirements For Delivery
Minimums & Maximums
Dump Trucks:
Bulk Aggregates (soils, mulches, gravels & sand)
Delivery order minimum – 6 scoops (3 cubic yards)
Delivery maximum load – 7 cubic yards of sand, soil or gravel (heavy aggregate)
Our single-axle truck can carry up to 13 cubic yards (26 scoops) of mulches or compost.
Our tandem truck requires a minimum of 8 cubic yards (16 scoops) for delivery. We can carry up to 15 yards of soils and up to 20 yards (40 scoops) of mulch on our tandem truck.
*We can not carry more than 16 tons (12 yards) on our tandem truck. DOT regulations prevent a heavier load.
Flat Bed With Forklift (Piggy Back):
Bulk Aggregates (soils, mulches, gravels & sand)
This method allows for multiple aggregate types to be delivered at the same time. If our machine can gain access to where you want it, we will be happy to place it there.
6 scoop (3 cubic yard) minimum for delivery. This would come in plastic tubs with carry up to 3 scoops each.
We can carry up to 12 cubic yards of any aggregate on our piggyback truck. That would be a total of 8 containers.
Containers are NOT left on site. They are dumped out in the location you specify.
Stone Products (flagstone, fieldstone, creek rock, boulders, etc.)
We have a one (1) ton minimum for stone delivery, which will be on pallets.
The stone will be secured on the pallet with shrink wrap if necessary or requested.
Pallet weight will vary by the type of stone.
A 'full' pallet of FLAGSTONE will be about 3500-4000 lbs.
A 'full' pallet of FIELDSTONE will average around 3200-3500 lbs.
A 'full' pallet of CREEKROCK will be about 3000 lbs.
A 'full' caged pallet of BOULDERS will be about 2500-3000 lbs.
*Boulder sizes range from soccer ball size to the size of a Smart Car. Weight will vary accordingly. Boulders approximately 4′ x 4′ will be about one ton. Some may be long and flat, which may mean it would take up two spots on the truck.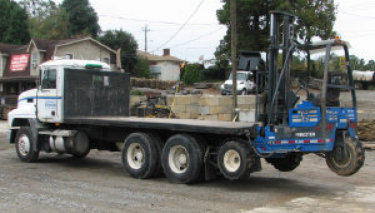 Flat Bed With Forklift (Piggy Back)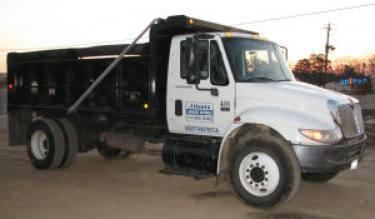 Single-Axle Box Dump Truck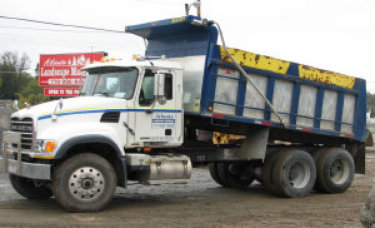 Double-Axle Tandem Dump Truck
Load & Go Options To Pick Up Landscape Materials
Click Here To See How Much You Can Carry
If you don't need much material or you would prefer to pick it up yourself, we can help you. Do you have a pick-up truck or trailer? Come on by and our friendly yard crew will be happy to load your vehicle on our site. No appointment is necessary. 
All aggregates are bulk (loose) so an open bed is required. We are unable to load aggregates into closed bed vehicles with our loaders.
All stone products are palletized, which we can load into a truck that may be loaded from the back. Our friendly staff will also be happy to assist in loading stones into small vehicles by hand. 
**Please be sure to secure your load!
If you do not have a truck we can load, we recommend the hourly rental trucks at the large home improvement stores.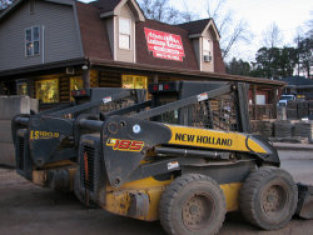 Contact Us To Buy On-Site Or Have Your Landscape Materials Delivered Today
Here at Atlanta Landscape Materials, we have trucks and dispatchers ready to coordinate your mulch, dirt, and compost delivery in the Greater Atlanta area. We also deliver landscape materials to Doraville, Norcross, Peachtree Corners, Dunwoody and Sandy Springs, just to name a few. We have a variety of truck sizes to accommodate your order. We can deliver a combination of rocks and mulch or dirt as well by using containers on our flatbed truck. Contact us today to see how we can meet your landscape material delivery needs.